FILM HOME PAGE
Films between 1919 & 1939
Films between 1940 & 1949
Films between 1950 & 1959
Films between 1960 & 1969
Films between 1970 & 1979
Films between 1980 & 1984
Films between 1985 & 1989
Films in 1990
Films in 1991
Films in 1992
Films in 1993
Films in 1994
Films in 1995
Films in 1996
Films in 1997
Films in 1998
Films in 1999
Films in 2000
Films in 2001
IMPORTANT & NOTEWORTHY FILMS
FEATURING ASIAN PACIFIC AMERICANS

Between 1950 and 1959 (Part #2)
Click HERE for Part #1



(1959)
Directed by Alain Resnais
Cast: Emmanuelle Riva, Eiji Okada, Stella Dassas, Pierre Barbaud, Bernard Fresson

Aside from being a groundbreaking work of cinematic art, this celebrated French film features one of the first times the Western screen has shown a white woman in bed with an Asian man. The movie begins with a startling blend of documentary footage and fictional voice-over, and it ends with a stunning personal revelation that finds a common thread in suffering the world over. Credited with initiating the international "New Wave" cinema of the 1960s, this is still one of the most respected and riveting films of all time. Scripted by Marguerite Duras, whose similarly theme novel "The Lover" was turned into a piece of soft-core trash in 1992.

(1959)

Directed by Joshua Logan
Cast: Rossano Brazzi, Mitzi Gaynor, John Kerr, Ray Walston, Juanita Hall, France Nuyen, Russ Brown, Floyd Simmons, Tom Laughlin, Jack Mullaney, Ken Clark, Archie Savage, Candace Lee, Warren Hsieh, Francis Kahele, Robert Jacobs, John Gabriel, Richard Harrison, Ron Ely, Steve Wiland, Richard H. Cutting, Joe Bailey, Buck Class, Richard Kiser, Linc Foster, Doug McClure, Stephen Ferry, Beverly Aadland, Darleen Engle, Joan Fontaine, Ed Fury James Stacy, Giorgio Tozzi
The dazzling Rodgers and Hammerstein musical, brought to lush life by the director of the original stage version, Joshua Logan.
PLOT: Set on a remote island during the Second World War, South Pacific tracks two parallel romances: one between a Navy nurse (Mitzi Gaynor) "as corny as Kansas in August" and a wealthy French plantation owner (Rossano Brazzi), the other between a young American officer (John Kerr) and a native girl (France Nuyen). The theme of interracial love was daring in 1958 (as it is, shockingly today), and so was director Logan's decision to overlay emotional moments with tinted filters--a technique that misfires as often as it hits.
The comic relief tends to fall flat, and an overly spunky Mitzi Gaynor is a poor substitute for the stage original's Mary Martin. But the location scenery on the Hawaiian island of Kauai is gorgeous, and the songs are among the finest in the American musical catalog: "Some Enchanted Evening," "Younger than Springtime," "I'm Gonna Wash That Man Right Outta My Hair," "This Nearly Was Mine." That's Juanita Hall as the sly native trader Bloody Mary, singing the haunting tune that launched a thousand tiki bars, "Bali H'ai." These songs can be heard on the South Pacific's c.d. Movie is based on stories from James Michener's book " Tales from the South Pacific ." --Robert Horton
Though this film doesn't feature many Asian Pacific Americans, it is included because of its interracial theme. Rogers and Hammerstein should be given a lot of credit for this production because they were under a lot pressure to eliminate the interracial romance element.
A song, not often sung or mentioned, entitled "You Have to Be Carefully Thought" describes how one learns how to hate. It was a daring song then, it would still be a daring song today. In fact, many of the same issues still exist today between the races. Just observe the relationships between Black and White, Hispanic and Black, White and Asian, etc. in the US. A very casual glance at world politics will tell you that the same problems continual plague people outside of the US. Isn't it time that we heed the words that our artists are speaking of?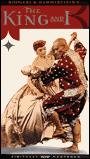 KING & I

(1959)
Directed by Walter Lang & Ernest Lehman
Cast: Deborah Kerr, Yul Brynner, Rita Moreno, Martin Benson, Terry Saunders, Rex Thompson, Carlos Rivas, Patrick Adiarte, Alan Mowbray, Geoffrey Toone, Robert Banas, Dennis Bonilla, Thomas Bonilla, Gemze De Lappe, Charles Irwin, Michiko Iseri, Irene James, Marion Jim, Fuji Levi, Weaver Levi, Jocelyn Lew, Eddie Luke, Marni Nixon, Josephine Smith, Leonard Strong, Dusty Worrall, William Yip, Yuriko
Deborah Kerr and Yul Brynner star in this excellent film adaptation of Rodgers and Hammerstein Broadway musical. The story is based on book that was previously filmed as ANNA AND THE KING OF SIAM.
Plot: Deborah Kerr plays a widowed English schoolteacher who travels to Siam to teach the King's many children, and finds dealing with His Highness her greatest challenge. Yul Brynner gives the performance of a lifetime and won an Oscar for recreating his Broadway role. Kerr is delightful & charming in portraying her many emotions when dealing with the King, teaching his children, understanding the many different things that happens in His Royal Palace, the King's dealing with women servants and her struggles to the dignities that she believes belongs to her in Siam. Her singing voice was dubbed by Marni Nixon which made the great.songs such as ``Hello, Young Lovers,'' ``Getting to Know You,'' ``Shall We Dance. '' (these songs can be heard on the film's soundtrack sound great.
The film won Oscars for art direction-set decoration, Irene Sharaff's costumes, Alfred Newman and Ken Darby's scoring. Screenplay by Ernest Lehman. CinemaScope 55. A remake entitled "Anna and the King of Siam" starring Chou Yan Fat and Jodie Foster was released in 1999.
INTERESTING SIDE NOTES: Yul Brynner originally wanted to direct the film with Marlon Brando in the role of "the King." When Brando turned down the role, the studio offered Yul Brynner higher salary and a percentage of the film's income to do the role.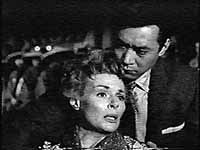 THE CRIMSON KIMONO

(1959)
Directed by Samuel Fuller
Cast: Victoria Shaw, Glenn Corbett, James Shigeta, Anna Lee, Casale Jaclynne Greene, Hansel Gloria Pall, Barbara Hayden, George Yoshinaga, Hidaka Kaye Elhardt, Nun Aya Oyama, Sister Gertrude George Okamura, Reverend Ryosho S. Sogabe, Priest Bob Okazaki, George Yoshinaga
The Crimson Kimono," was the creation by the "pulp violence" master, Samuel Fuller, is what the recently released " L.A. Confidential" tries so hard to be. Edgy, hard-boiled, steamy, lurid and studded with plot curlicues and sexual subtexts, Fuller's 1959 film gives L.A. just the right touch of tropical seaminess and stark menace! It features James Shigeta as a Nisei Korean War Veteran turned detective in a prescient plot element involving bi-racial friendship and romance long seeked by today's Asian Pacific American actors. It was multicultural before there was the word, with a grace and sophistication we have rarely seen since. As one reviewer stated "You've got two cops in love with the same woman and the feel of L.A. and its seamy underside."



site design by Asian American Artistry
for any questions regarding the content, please contact Asian American Artistry
Copyright © 1996-2003 - Asian American Artistry - All Rights Reserved.